This past week, I keynoted at an event where I pushed the audience to "Share Everything." I mean really, professionally, what is it that any educator has that is so secret it shouldn't be shared?
Who has lesson plans that are so incredible that only one person should be allowed to use them? What coach has such amazing coaching strategies that others should not be allowed to learn from them? What marching band formation is so wonderful that no one else should be allowed to even glimpse at it's wonderfulness?  I simply cannot imagine. Enlighten me…
Even if you are a coach with this years latest and greatest plays, why not share LAST year's plays? Marching band dudes and dudettes, we have seen your formations last year..share them this year. Some newbie band director could use them!
When you really think about it, not too many of us share. Thus, that is why at the keynote,  I asked everyone to share their knowledge. I think, in the words of Sheryl Nussbaum-Beach, that we literally have a moral obligation to embrace the technology and to share:
 When we are little kids, what do we learn almost immediately?
That we should share. 
Share our crayons.
Share our drawing paper.
Share your baby swimming pool.
Share your toys.
Let Billy ride your bike for goodness sake. 
Somewhere along the way, we start to pull more into ourselves, and as we get older, that lesson we learned in preschool goes away.  
Sure, we share some things in our lives..but there always is that little nagging idea in our heads about whether I get anything back:
Why should I share when no one else is sharing?
What is in it for me?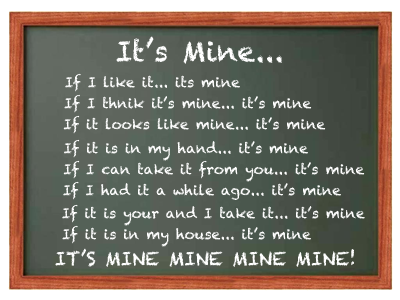 When I first started writing my blog, all those years ago, I really didnt think about what would happen. I simply decided to use the blog as an example to my employees of what blogging could be. 
Now, almost 8 years later, thousands of entries written or re-blogged, and three or four different reiterations of my site, (Byte Speed, Intended Consequences 1.0 and 2.0, and now Holtthink), I think that it no longer is even an issue of what I am sharing. I don't post for others so much as I post to get the ideas out of my little brain and onto a semi permanent location where I can refer back to them.
I don't do it for the good of the many, I do it for the good of the me.
So really, by sharing with everyone, I am doing myself the most selfish of acts: I am creating a repository of ides and thoughts and resources for my own use later on.
And if someone else comes along and like what I am saving, good for them.
And that is why I share when no one else is sharing.