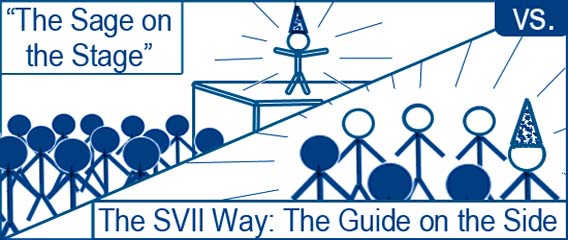 How do your students view the way you deliver information to them? Are you in front of the classroom giving them lectures, asking them to read papers and texts, and running the class like a conductor in front of an orchestra? 
If you answered yes, then congratulations! You are a sage on the stage and can draw your teaching lineage back thousands of years to the like Aristotle and Socrates. 
You have a fine, long tradition behind you.
Unfortunately, "behind you" is the operative term here. Study after study finds that students that are actively engaged in the learning process learn more, are more apt to score better on tests, and can recall items much longer than those that simply act as knowledge radio receivers.
You can use your own experience to see if being actively engaged is better than lecture style learning: 
Think about the one science lab that really sticks out in your mind from all of your school years…go ahead, I'll wait, 
I bet it was the frog dissection wasn't it? That icky, stinky, gooey lab where you cut open a poor preserved frog still is in your mind years later! That is because you were actively engaged in that learning. 
So, don't just stand in front of your students and tell them everything you know. Let them discover things on their own. After all, school is about their learning, not yours.
ASCD was talking about this way back in 1993:
What will it take to move you off the stage?