Teachers, looking for a way to expand the walls of your classroom? Students, looking for a way to connect with Smithsonian experts and other classrooms around the world?
With a wide range of topics, the 2013-14 Smithsonian Online Education Conference Series provides an online space for students to engage with Smithsonian experts–from historians, art educators, scientists, anthropologists and more—and make connections from textbooks to today's world.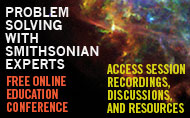 In each online conference in the series, you will join with students and teachers to interact with curators, researchers, and educators from various disciplines at the Smithsonian. Special sessions will be dedicated to teachers in a "virtual teachers' lounge" to highlight Smithsonian learning resources related to conference topics and offer an opportunity to discuss them with fellow teachers. And be sure to check out the Resources page for other activities and learning opportunities, including the Smithsonian Quests™ program, for use before, during and after the conference sessions.
This looks like a very interesting series of webinars, and teachers can earn electronic "badges" for taking these as professional development opportunities.
A quick look at the listing seems to have a heavy social studies/history emphasis. There were a few astronomy ones as well.
Here is a list of all the current webinars that be accessed at any time.