I just put out a Call for Presentation for a conference that will take place in El Paso in September 2014. This year for the first time, I am going to actively encourage that my out of town professional learning network members try to attend and present virtually.
I like the idea of having virtual presentations taking place at the same time that face to face presentations are happening. But where do you start? How do you present if your audience might be1000 miles away? Here is a short list of five possible ways to present in a virtual environment:
Skype/ Facetime:
Probably the first thing that most people think of when they get the idea that they could present virtually is to use Skype. Skype is great for allowing one to one presentations. You need to have a Skype premium account to do any type of document sharing.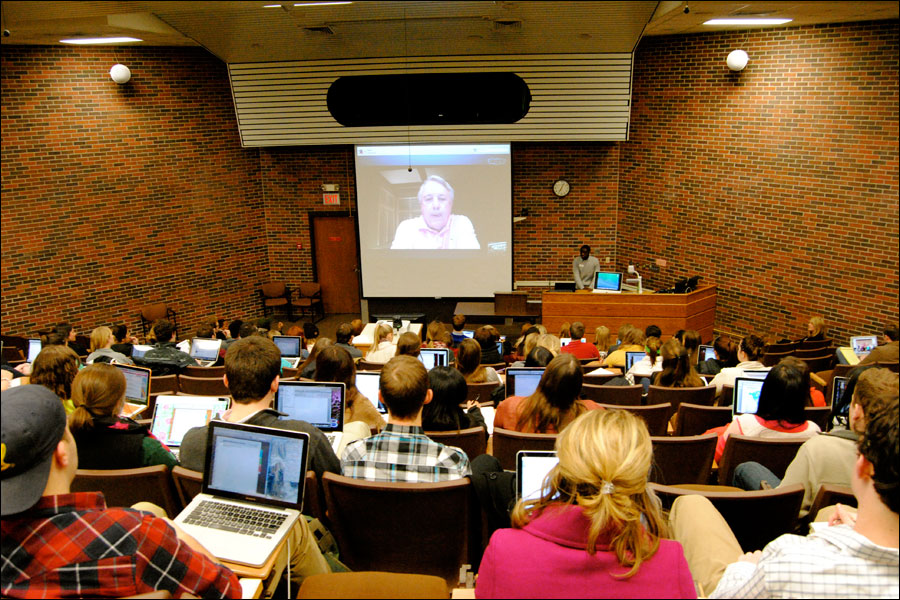 There are simple ways to overcome the Skype for free limitations: Use Today's Meet for the backchannel chat that both sides can access and if your conference does not have a place where files are stored online, set up a public Dropbox where they can access all of your materials.
If you have access to Apple equipment, you might consider FaceTime which I think has superior video and audio than Skype. Sadly, neither one of these can easily show your presentation if you have a Powerpoint or Keynote.
Webinar:
Webinars allow you to not only present virtually and live, but they also, in most cases, allow for slides, chats, video and more. We use Adobe Connect for a lot of our webinars and it is perfectly serviceable. (There are a lot of webinar packages available. You can host your own, or you can ask the conference organizers if they have access. Either way, webinar is a nice way to present virtually.
Most webinar software allows for recording, another feature that is great for conferences, especially if someone could not make it to your session. AND most allow you to embed handouts right in the webinar.
Prerecorded Video:
The first time I saw this was when David Warlick created a prerecorded Keynote address for the K12 Online Conference back in 2006.
It was not so much the content that he spoke, but how he did it that got my attention. He took his webcam with him all over the place and recorded his keynote. That showed me the power of being able to present from anywhere and at anytime. (I think back then he had to have a wired mic and his laptop in order to make the movie.)
Since then, there have been tons of tools created such as iMovie and lots of devices such as iPads and iPhones that really allow you to create a "keynote on the go." You can record when the spirit moves you. Put it all together into a movie and send it off!
There are also lots of examples of how to make a prerecorded presentation as well. TED TALKS are probably the gold standard, but all you have to do is pretty much look at any pre-recorded keynote from the K12 Online days to get a good idea of how to do this.
Both Keynote and Powerpoint allow you to pre-record your presentation straight from the slideshows which is another option, especially of you have a slide-heavy presentation.
Video Conference:
If you are lucky enough to have access to high end video conference equipment, by all means use that! You have to make sure that the other end has the equipment as well, but a good VC set up can handle HD cameras, screen casts of your presentations, and usually have excellent audio as well. A good VC set up can make the audience think you are actually in the room, and the advantage is that you can actually interact almost face to face with your audience.
Google Hangouts
Perhaps the newest of the bunch is Google Hangouts. Google hangouts allows you to connect up to 10 connections at one time (if you are presenting this would make an awesome panel discussion!). I have done a couple of hangouts and they work pretty much as advertised.
Grab some friends and do a panel at a conference using hangouts.
A word of advice however: If you have handouts, you still have the same problem that you had with Skype and FaceTime. You will need to make them available via Dropbox of some other web site.
There you have it! If you want to present, you don't actually HAVE to be there to do so! Consider presenting virtually. Ask the conference organizers if they would allow you to do so. If they are an ed tech conference, chances are they will. (And actually, pretty much any conference with a decent wifi set up should be able to handle a virtual presentation.
Why not start by trying it out at miniCAST 2014? You can present in El Paso Texas from your dining room in your pajamas and no one will be the wiser!
Here is the Call for Presenters: