Here are some of the books that are currently on my iBooks App. No, I didn't include links. Go buy them yourself from whatever bookstore you purchase things at.I purchased all in the iBook Store on iTunes.
A visionary game designer reveals how we can harness the power of games to boost global happiness.
With 174 million gamers in the United States alone, we now live in a world where every generation will be a gamer generation. But why, Jane McGonigal asks, should games be used for escapist entertainment alone? In this groundbreaking book, she shows how we can leverage the power of games to fix what is wrong with the real world-from social problems like depression and obesity to global issues like poverty and climate change-and introduces us to cutting-edge games that are already changing the business, education, and nonprofit worlds. Written for gamers and non-gamers alike, Reality Is Broken shows that the future will belong to those who can understand, design, and play games.
A forceful argument against America's vicious circle of growing inequality by the Nobel Prize–winning economist.
The top 1 percent of Americans control 40 percent of the nation's wealth. And, as Joseph E. Stiglitz explains, while those at the top enjoy the best health care, education, and benefits of wealth, they fail to realize that "their fate is bound up with how the other 99 percent live." Stiglitz draws on his deep understanding of economics to show that growing inequality is not inevitable: moneyed interests compound their wealth by stifling true, dynamic capitalism. They have made America the most unequal advanced industrial country while crippling growth, trampling on the rule of law, and undermining democracy. The result: a divided society that cannot tackle its most pressing problems. With characteristic insight, Stiglitz examines our current state, then teases out its implications for democracy, for monetary and budgetary policy, and for globalization. He closes with a plan for a more just and prosperous future.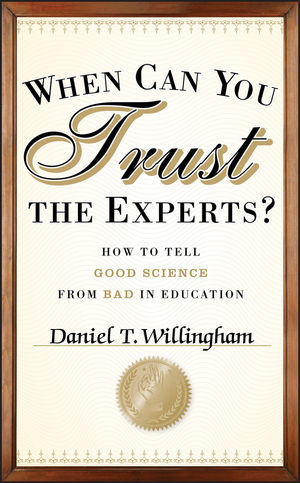 Each year, teachers, administrators, and parents face a barrage of new education software, games, workbooks, and professional development programs purporting to be "based on the latest research." While some of these products are rooted in solid science, the research behind many others is grossly exaggerated. This new book, written by a top thought leader, helps everyday teachers, administrators, and family members—who don't have years of statistics courses under their belts—separate the wheat from the chaff and determine which new educational approaches are scientifically supported and worth adopting.
We've all seen the happiness in the face of a child while playing in the school yard. Or the blissful abandon of a golden retriever racing with glee across a lawn. This is the joy of play. By definition, play is purposeless and all-consuming. And, most important, it's 

fun

.

As we become adults, taking time to play feels like a guilty pleasure—a distraction from "real" work and life. But as Dr. Stuart Brown illustrates, play is anything but trivial. It is a biological drive as integral to our health as sleep or nutrition. In fact, our ability to play throughout life is the single most important factor in determining our success and happiness.

Dr. Brown has spent his career studying animal behavior and conducting more than six thousand "play histories" of humans from all walks of life—from serial murderers to Nobel Prize winners. Backed by the latest research, 

Play

 explains why play is essential to our social skills, adaptability, intelligence, creativity, ability to problem solve, and more. Play is hardwired into our brains—it is the mechanism by which we become resilient, smart, and adaptable people.

Beyond play's role in our personal fulfillment, its benefits have profound implications for child development and the way we parent, education and social policy, business innovation, productivity, and even the future of our society. From new research suggesting the direct role of three-dimensional-object play in shaping our brains to animal studies showing the startling effects of the lack of play, Brown provides a sweeping look at the latest breakthroughs in our understanding of the importance of this behavior. A fascinating blend of cutting-edge neuroscience, biology, psychology, social science, and inspiring human stories of the transformative power of play, this book proves why play just might be the most important work we can ever do.
Introducing a new way to think about higher education, learning, and technology that prioritizes the benefits of the human dimension. José Bowen recognizes that technology is profoundly changing education and that if students are going to continue to pay enormous sums for campus classes, colleges will need to provide more than what can be found online and maximize "naked" face-to-face contact with faculty. Here, he illustrates how technology is most powerfully used outside the classroom, and, when used effectively, how it can ensure that students arrive to class more prepared for meaningful interaction with faculty. Bowen offers practical advice for faculty and administrators on how to engage students with new technology while restructuring classes into more active learning environments.