What You Need To Know Now
2/7/2012
Contact the EditorFollow on TwitterSponsor this NewsletterSubscribeChange email addressUnsubscribe
News & Issues
Teachers and administrators both cited technical issues and a culture of mistrust as factors hindering more effective use of school data systems, including learning management systems and student information systems.

More

FCC Chairman Genachowski Wednesday called for digital textbooks for every American student within the next five years.

More

According to Project Tomorrow CEO Julie Evans, "Today's students have their own 'student vision' for how they want to use technology for learning. That vision," she said, "is really a statement of how students want to learn in general."

More
Google has awarded $340,000 to 26 organizations that provide STEM enrichment programs to students in K-12 and higher education.

More

Video taken of the far side of the moon by NASA's Gravity Recovery And Interior Laboratory (GRAIL) mission will be used in classroom's across the country with footage taken by MoonKAM ("Moon Knowledge Acquired by Middle school students") cameras.

More

On January 26, three teams of high school science students got to watch real robots they had programmed carry out their code aboard the International Space Station.

More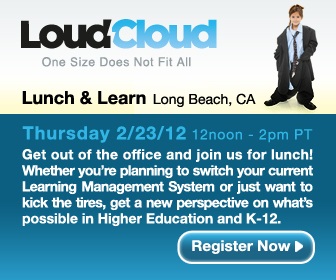 Professional Resources
eBook: Transforming the Delivery of Information in K-12 Ed
Sponsored by: Avaya
There's a transformation taking place in the way information and applications are being delivered in K-12 education. Download this free ebook to read how teams of educators and IT professionals from schools and districts around the nation are working hard to successfully deliverdigital media to the classroom.
Learn the "What," "Why," and "How" Behind BYOD
Sponsored by: Avaya
The movement to mobile and digital learning reflects the exploding popularity of mobile devices and the growth in wireless network services to support them. Your students have their own personal computing devices, and they want to use them in class. This is a good thing! Find out why.
One study shows: Elementary Students Learn Mandarin, Spanish Faster w/Software
Sponsored by: Rosetta Stone
Even though many foreign language programs in elementary schools use traditional teacher-led curricula, educators are increasingly interested in using educational technology to enhance students' foreign language learning. But is there scientific research to back up the claims of effectiveness? There is now.
T.H.E. News Update is a weekly newsletter covering the latest in technology trends, tools, and usage for K-12 instruction and administration. Opinion pieces by leading technology experts and visionaries provide insight on a variety of critical issues. News, announcements, and need-to-know statistics give readers a quick look at timely news and events affecting the education community. Please direct any questions or comments about T.H.E. News Update toeditorial@thejournal.com